Bette Midler applauds Idina Menzel casting in Beaches TV remake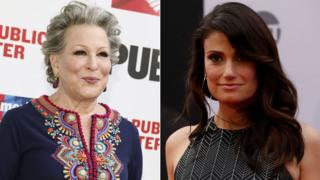 Bette Midler has applauded the casting of Idina Menzel in a TV remake of her Oscar-nominated weepie Beaches.
"Can't wait to see Idina Menzel as CC in Lifetime's Beaches!" she tweeted, adding: "Don't tell me the ending!"
Midler played CC Bloom opposite Barbara Hershey's Hillary in the 1988 original, which told of a life-long friendship between two girls who meet on holiday.
It is not yet known who will take the Hillary role in the film, which begins shooting in Vancouver later this month.
Allison Anders will direct the production for the Lifetime network, which will see Menzel perform Midler's hit song Wind Beneath My Wings.
She will also perform The Glory of Love, another number Midler sang in the film, as well as additional songs in the 2017 production.
Menzel, known for her role in TV show Glee and as the voice of Elsa in Disney's Frozen, said she "couldn't wait" to start shooting.
"Bette Midler has been one of my all time idols," she wrote on Twitter last week. "I hope I can make her proud."
Garry Marshall, director of the original Beaches as well as films such as 1990's Pretty Woman, died last month aged 81.
---
Follow us on Twitter @BBCNewsEnts, on Instagram, or email entertainment.news@bbc.co.uk.