Amateur orchestras compete for a place at the BBC Proms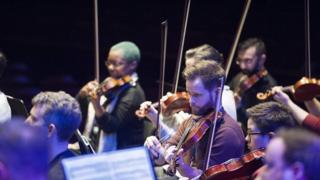 Five amateur orchestras will compete for a place at the BBC Proms as part of a new TV show.
All Together Now: The Great Orchestra Challenge will follow the musicians as they take part in master classes and stage their own concerts.
Conductor Paul Daniel will select a winner who will perform at the BBC Proms in the Park.
The show, hosted by Katie Derham, will be broadcast on BBC Four, with the grand final broadcast on BBC Two.
The five finalists were selected after a nationwide search for the UK's most inspirational amateur orchestra. They are:
The UK's oldest LGBT orchestra, founded by conductor Robin Gordon-Powell. Open to musicians of any sexuality, its 150 members boast a mix of occupations ranging from gardening to graphic design, cabaret to neuroscience. They have played at venues including the Royal Festival Hall, and performed with the likes of Jimmy Somerville, Rosalind Plowright and Sue Perkins.
Just 12 years old, the North Devon Sinfonia is formed of local musicians, including a cheese maker, lupin grower, postman, and a number of doctors and teachers. Conducted by Emma Kent, they specialise in the repertoire of the Romantic period and the 20th Century. Highlights have included the debut performance of a new work for guitar, flute and orchestra with soloists Craig Ogden and Judith Hall.
Slaithwaite Philharmonic Orchestra
Based in the Colne Valley, West Yorkshire, the Slaithwaite Philharmonic was originally set up by a group of ordinary working men from the textile industry. It is one of the country's oldest amateur orchestras, and celebrated its 125th anniversary in May with a gala charity concert at Huddersfield Golf Club, with music set to fireworks and a cannon fire during the 1812 Overture.
Led by husband and wife duo Stephen and Joelle Broad, the Stirling Orchestra draws from players from a wide range of backgrounds - including a horse riding coach, microbiologist, social worker and students from Stirling University. The orchestra performs mainly at Stirling's historic Albert Halls, putting on three or four concerts a year.
The Birmingham-based People's Orchestra, which boasts a large wind section and 10 saxophones and performs a core repertoire of film music and popular classics. The only orchestra in the competition to boast a British Airways pilot amongst their number, they are also an independent music charity, running a successful volunteer programme that helps local unemployed people back into work.
The four-part series will begin at the end of August.
Conductor and judge Daniel said he was looking for an orchestra "that goes beyond technical excellence".
"They'll have to capture the spirit and excitement of British amateur music, they have to really engage us musically and emotionally and connect with their audience.
"No matter where and how they start out, I want my 'best' orchestra to discover and really develop its potential."
Proms In The Park, from London's Hyde Park, takes place on Saturday 10 September.
Follow us on Twitter @BBCNewsEnts, on Instagram at bbcnewsents, or email entertainment.news@bbc.co.uk.