Queen Latifah: Racism 'still alive and kicking'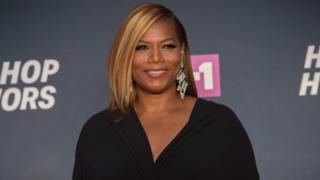 Queen Latifah has said "racism is still alive and kicking" while speaking at VH1's Hip Hop Honours.
The rapper made the comments in the wake of protests which have been taking place in the US after the killing of two black men by police last week.
Five police officers were later killed after a man opened fire near a peaceful protest in Dallas.
While being honoured at the ceremony, Latifah said: "Listen, we all know our world is really tense right now."
'About love'
"I'm hoping that we can somehow manage to channel all of these emotions that we have in a positive way, and really do something to change our world."
Tributes were also paid to Lil' Kim, Missy Elliott and Salt-N-Pepa at the event - which focused on female artists in hip-hop.
"I don't care how much or things I have, or Puff has, or Missy has," Latifah said, referring to her own wealth and that of fellow rappers P Diddy and Missy Elliott.
"If I go outside and try to hail a cab and he passes me for the white woman standing right there, that racism is still alive and kicking. And we have to change that."
Latifah added: "I'm not blaming the white lady, she needed a cab too. I'm just saying we need to change this attitude."
The sentiment was echoed by Alicia Garza, co-founder of Black Lives Matter, who opened the ceremony saying: "This movement is grounded in black peoples' dignity, justice and freedom. It's about love, not violence."
---
Follow us on Twitter @BBCNewsEnts, on Instagram, or email entertainment.news@bbc.co.uk.