Matt Smith celebrates 'chaos' of new play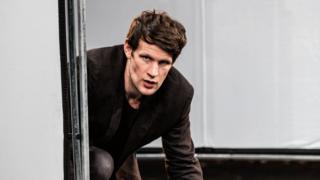 Actor Matt Smith has described working on his new stage play - a film industry satire entirely devised in rehearsals - as "a white-knuckle ride".
"Sometimes I thought, 'Why the hell am I doing this?'" said the former Doctor Who star of Unreachable, which opened on Friday at London's Royal Court.
"There's so much stuff you're trying to process constantly, but somehow that adds to the aliveness of it."
The play is written and directed by Anthony Neilson.
It tells of a young filmmaker whose perfectionism threatens to derail his latest project.
Smith, who last appeared on stage in London in the 2013 musical American Psycho, said he was a long-time admirer of the Scottish playwright.
"I'm a fan of his work and the style of his work and I always have been," said the 33-year-old, describing Neilson's methods as "bizarre, mad and chaos".
Yet the actor - to be seen later this year as Prince Philip in Netflix drama The Crown - admitted there had been some hair-raising moments en route to Friday's press night.
"The only time we were off the script was [Thursday]," he revealed. "We had scripts in our hands the previous four nights.
"There were scenes I didn't know. [Anthony] was literally doing rewrites right up to the last minute."
"Six weeks ago, nothing existed," said Neilson, who conceded that devising the show from scratch had been "really tough".
"The fear is that it's going to be a very bad show. The prize is to do something people really respond to."
Neilson, whose plays have often courted controversy and whose RSC production of Marat/Sade prompted walk-outs in 2011, said Unreachable had been the result of a collective effort.
"It's not down to me at all," he said. "Everybody who worked on this, from the sound to the design to the actors - it belongs to all of us."
Billie Piper, another Doctor Who star who will shortly be seen treading the boards in London, was among the audience on Friday night.
The play has drawn qualified praise from the critics, with The Guardian saluting Matt Smith for his "richly detailed performance".
Unreachable continues at the Royal Court in London until 6 August.