Legend leads stars' response to US shootings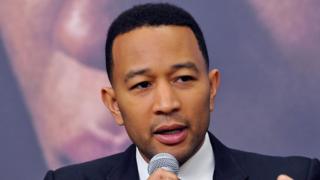 Oscar-winning singer John Legend has called for "peace" after five Dallas police officers were killed and six wounded by sniper fire, during protests against police shooting of black men.
"Being against cops killing is not equal to being for killing cops. We need peace in our streets," he tweeted.
Legend won the only Oscar for Martin Luther King film Selma, for co-writing its song Glory.
Stars including Beyonce and Jay-Z have reacted to the shootings.
Legend added: "These Dallas shootings are horrific. Killing these officers is morally reprehensible and completely counterproductive to keeping us safe."
Gunfire broke out at around 20:45 local time on Thursday (01:45 GMT Friday) as demonstrators marched through Dallas in one of several protests in the US over the police use of lethal force against African Americans.
Philando Castile was shot dead at a traffic stop in St Paul, Minnesota, on Wednesday, while Alton Sterling was killed by police a day earlier in Baton Rouge, Louisiana. Both incidents were captured on video, reigniting what has become a national debate.
Oscar-winning actress Patricia Arquette added her voice, saying: "Just heard about shootings in Dallas Please everyone stop killing each other- no more guns. No more violence. No more murder. Horrible."
Michael Moore, who directed the Oscar-winning Bowling For Columbine, a documentary about the 1999 Columbine High School massacre which explores US gun culture, tweeted that US President Obama's presence was needed.
Cynthia Erivo, who won a Tony for her portrayal of Celie in Broadway's The Color Purple, tweeted a prayer: "Dear Lord I ask you to take this world in your arms and brush it with love and peace and understanding. It's gone too far."
US actor and comic Kevin Hart added: "Peace is the message... An eye for an eye leaves everybody blind."
Before recent events in Dallas, music power couple Jay Z and Beyonce reacted to the police shootings of black men in America, with Jay Z releasing a new song, Spiritual, on his streaming service Tidal on Friday.
He also released a statement, saying: "I'm saddened and disappointed in THIS America - we should be further along. WE ARE NOT."
He also sent blessings to the families of those who "lost loved ones to police brutality".
Singer Beyonce held a minute's silence at her gig in Glasgow on Thursday night for the two shooting victims.
She also put Alton Sterling and Philando Castile's names on a big screen while pleading for an end to the "war on minorities" in the US.
Canadian rapper Drake said, on Instagram, it was "impossible to ignore that the relationship between black and brown communities and law enforcement remains as strained as it was decades ago".
He added: "No one begins their life as a hashtag. Yet the trend of being reduced to one continues."
Musician Justin Timberlake added his voice, tweeting: "This IS systemic. We MUST DO BETTER. My heart goes out to the families of #AltonSterling and #PhilandoCastile May they both Rest In Peace."
Katy Perry linked to video of Alton Sterling being shot, saying: "You can't just go on with your day, you must watch this & we must face this continual outrageousness #ALTONSTERLING."
---
Follow us on Twitter @BBCNewsEnts, on Instagram, or email entertainment.news@bbc.co.uk.