Judge 'approves' 50 Cent's payback plans over bankruptcy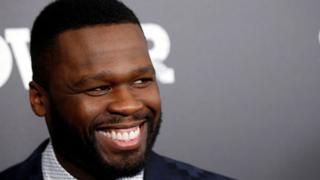 Rapper 50 Cent has reportedly had plans to pay back creditors and reorganise his finances approved by a US federal bankruptcy court judge
He filed for bankruptcy a year ago, days after a jury ruled he had to pay $5m (£3.2m) to a woman suing over a leaked sex tape.
The music star, businessman and actor will pay $7.4m (£5.7m) to begin the plan, the Hartford Courant reported.
The rapper cited debts of $36m and assets of less than $20m last July.
50 Cent, whose real name is Curtis James Jackson III, owns a mansion in Connecticut where the court is located.
US bankruptcy judge Ann Nevins said he has "a significant ability to generate income".
The financial plan will see creditors holding unsecured claims receive 74% -92% of what they are owed.
Lastonia Leviston, the woman suing over the leaked sex tape, had been awarded a total of $7m including $2m in punitive damages. She agreed to take $6m as part of the plans.
The rapper, 41, has sold more than 30 million albums and won a Grammy Award in 2010. He also has business interests in clothing and audio equipment and he invested early in Vitamin Water, which was then bought by Coca Cola.
On screen, he has had roles in the Starz network action series Power, Jake Gyllenhaal boxing drama Southpaw and Sylvester Stallone film Escape Plan.
Last year Forbes crowned him one of hip-hop's five wealthiest artists for 2015.
---
Follow us on Twitter @BBCNewsEnts, on Instagram at bbcnewsents, or email entertainment.news@bbc.co.uk.