Philanthropy 'should not substitute' public funding, report finds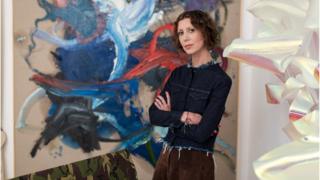 Philanthropy cannot be "a silver bullet" to fund the arts sector, a report into the relationship between collectors and museums has concluded.
Museums Sheffield's Going Public Report follows a summit between collectors, museum directors and experts in 2015.
Its author Louisa Buck said those involved had "agreed that too much private influence could undermine the integrity of our public institutions".
She said private money "cannot and should not substitute" government help.
The report is the latest part of a series of exhibitions and debates launched by the Sheffield organisation in 2015, which has seen more than 135,000 people visit the shows and 180 "leading voices" attend the summit.
Among those contributing to it were the directors and former directors of the Tate Modern, Yorkshire Sculpture Park and the Whitworth in Manchester, along with a number of international collectors, including Nicholas Cattelain and Sylvain Levy.
'First step'
In the report, Cattelain praised the Sheffield project and said that with the "right vision and an open mind, everything is possible".
"Going Public is a fantastic initiative that will hopefully set a precedent for other similar events.
"The main lesson for me is that good things can happen when public curators and private collectors start talking to each other and explore ways to co-operate."
Levy added: "Most people think the idea of philanthropy is to give money but the real idea is not about money but how you can make for the other something better.
"People think that the best way is to have exhibitions with Tate or Centre Pompidou but it is more important for me to work with small-sized institutions which can offer something much more nimble, more cutting edge - where there's a real sense of doing something together.
"But really there is not a small institution, there is not a big institution: there is a relevant project or a not relevant project. Every project has to be relevant."
Buck said the "overwhelming message" from everything that had gone before was "philanthropy is now an evermore significant source of support for the culture sector and that more can undoubtedly be done to develop private giving".
However, she warned that it could not totally replace public funding, as while there was "a strong desire on the part of private individuals to contribute to our regional museums and galleries, they are not prepared to plug gaps caused by government cuts".
Museums Sheffield's chief executive Kim Streets said the report "represents the first step in a vital conversation to establish how public galleries can develop meaningful, reciprocal relationships with philanthropists".
"As a sector, we must now consider how we can secure the necessary investment in skills needed to develop those relationships and how we can enable the sector to get the best from those relationships in the longer term," she added.
---
Follow us on Twitter @BBCNewsEnts, on Instagram at bbcnewsents, or email entertainment.news@bbc.co.uk.