Secret Life of Pets beats Independence Day sequel at UK box office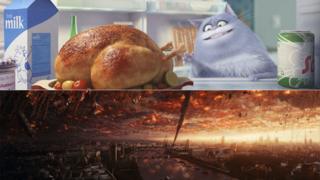 Animated caper The Secret Life of Pets beat the Independence Day sequel at UK and Ireland cinemas this weekend.
The latest product from the makers of the Minions movie opened with a £9.58m haul, a figure that includes £3.6m from previews held the previous weekend.
Even without those takings, though, the film made enough to keep Independence Day: Resurgence in second place.
Roland Emmerich's sequel to his 1996 sci-fi blockbuster made £5.06m between Thursday and Sunday.
The film's takings were also swelled by a day of previews. It sees the alien invaders who devastated Earth 20 years ago return to finish the job.
Released officially on Friday, The Secret Life of Pets is a comedy that imagines what house pets get up to when the humans are out.
Comedians Louis CK, Kevin Hart and Steve Coogan are among those who provide voices for its collection of cartoon critters.
Horror sequel The Conjuring 2, which topped the box office chart last weekend, falls to number three in this week's countdown.
Romantic drama Me Before You and action comedy The Nice Guys round out this week's top five.
UK AND IRELAND BOX OFFICE
1. The Secret Life of Pets - £9.58m
2. Independence Day: Resurgence - £5.06m
3. The Conjuring 2 - £1.56m
4. Me Before You - £0.66m
5. The Nice Guys - £0.20m
US funny man Hart will be hoping to make another appearance in next week's chart thanks to Central Intelligence, his latest starring vehicle.
The comedian, who voices a rabbit in The Secret Life of Pets, appears in the flesh alongside Dwayne "The Rock" Johnson in the espionage-based comedy.
Yet he will face competition from the long-awaited Absolutely Fabulous film, which also arrives in cinemas on 1 July.