ITV making drama on love life of footballer Bobby Moore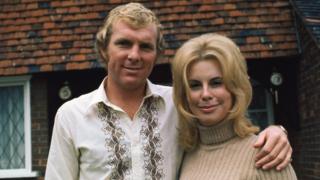 A drama about 1966 World Cup footballer Bobby Moore and his wife Tina is to appear on ITV, starring Coronation Street's Michelle Keegan and Grantchester's Lorne MacFadyen.
Moore, who also played for West Ham, lifted the World Cup 50 years ago as his team beat Germany in the final.
He is the only English captain to have done so.
The three-part drama charts their lives from "humble beginnings to the dizzy heights of superstardom."
Patsy Kensit will also join the cast as Tina's mother Betty.
ITV have said that Tina and Bobby will be "an epic love story about an ordinary girl from Essex who fell head over heels in love with an ordinary boy, who just happened to be an extraordinarily talented footballer".
"Most people will know the story of Bobby Moore's achievements as captain of club and country," said ITV Studios' executive producer, Kieran Roberts.
"Far fewer will know the story of his life with Tina - a love story every bit as dramatic and epic as Bobby's exploits on the pitch. We are delighted to be dramatising Tina and Bobby's amazing story for ITV and, in Michelle and Lorne, we think we have the perfect casting of the 'golden' couple and we are thrilled."
Filming is set to kick off in Manchester this summer.