Casualty marks 30th anniversary with feature-length show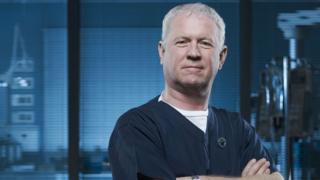 Casualty will mark its 30th anniversary with a feature-length episode that will include a "shocking stunt", its producer has said.
Too Old For This Shift will feature scenes that will hit "the very heart of the hospital" as key characters will be put in danger.
The BBC show is the longest-running emergency medical drama in the world.
The special episode, which will see the return of some old faces, will be broadcast on 27 August.
Derek Thompson, who plays mainstay Charlie Fairhead, is also celebrating 30 years on the show, having been a cast member since its debut on BBC One.
"From day one of filming Casualty in 1986, I've been so proud of its true-to-life storytelling, representing everything the NHS stands for," Fairhead said.
"I've been a part of a few anniversaries over the years, but this really feels like a significant moment in British television history."
Alongside Thompson will be Holby's cardiothoracic consultant Jac Naylor (Rosie Marcel), CEO Henrik Hanssen (Guy Henry) and Adrian "Fletch" Fletcher (Alex Walkinshaw), who will all play key roles in the episode.
Executive producer Oliver Kent said: "Casualty's 30th anniversary episode is a huge celebration of everything that the show does best."
Kent also said it "will make the audience gasp, laugh and cry buckets".
"There will be plenty of surprises for the audience, including some old faces that they won't have seen for a while. Best of all, it has the incredible Charlie Fairhead centre stage."
The storyline will also see a crossover with sister show Holby City.
Casualty currently averages 5.35 million viewers.
Its 1000th episode was broadcast on 25 June.