Hamilton to perform for Hillary Clinton fundraiser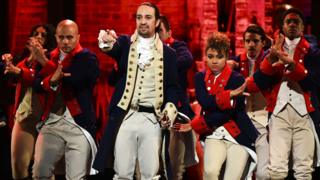 A special fundraising performance of the sold-out hit Broadway musical Hamilton has been announced.
The event, titled Hamilton: An American Musical with special guest Hillary Rodham Clinton, aims to raise money for the Democratic presidential candidate's campaign.
Tickets for a matinee on 12 July start at $2,700 (£2,009) and go up to $100,000 (£74,442).
The Hillary Victory Fund purchased all 1321 seats for the performance.
They are available to buy on Clinton's website.
The cheapest ticket for the event provides guests a general seat, while the $100,000 "event chair" entry includes "two premium seats and wrap party with Hillary and other special guests, and invitation to the Democratic National Convention".
In an email sent to her supporters, Clinton is said to have written: "When I first saw the musical Hamilton last year, I was blown away.
"It's an incredible feat of storytelling about the fight for the heart and soul of our very nation. It's a look at history that feels immediately relevant today. It's a beautiful piece of art with empathy to spare."
Hamilton's creator and star Lin-Manuel Miranda and his lead co-stars are not expected to perform at the fundraiser following their final performance of the show on 9 July.
Last November, the show hosted a fundraiser for the Democratic National Hope Fund, which President Obama and First Lady Michelle Obama attended.
They are such fans of the show that they introduced the musical's performance at this year's Tony Awards.
The president said it was "not only a smash hit but a civics lesson our kids can't get enough of".
Hamilton led the Tony Awards in New York earlier this month, winning 11 including best musical and lead actor.
It will transfer to London's West End in October 2017.