Full Metal Jacket and Dispatches writer Michael Herr dies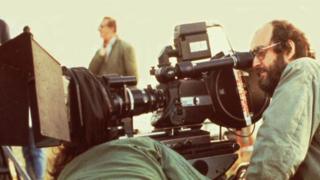 Michael Herr, who co-wrote the Oscar-nominated screenplay for Full Metal Jacket and whose non-fiction novel Dispatches documented the Vietnam War, has died aged 76.
His death on Thursday in New York was confirmed by publisher Alfred A Knopf, which released 1977's Dispatches.
The book became a classic of war reportage not long after its release.
New York-born Herr also helped write the voiceover narration for Francis Ford Coppola's Apocalypse Now.
Full Metal Jacket, directed by Stanley Kubrick, follows a platoon of US Marines as they go through training and then fight in the Vietnam War, while Apocalypse Now, based on Joseph Conrad's novella Heart of Darkness, is also about the war in Vietnam.
Dispatches, described by author John Le Carre as "the best book I have read on men and war in our time" was a visceral memoir of Herr's time as a correspondent for Esquire magazine during the Vietnam War.
New York Times critic John Leonard wrote on its release: "Dispatches is beyond politics, beyond rhetoric, beyond 'pacification' and body counts and the 'psychotic vaudeville' of Saigon press briefings....
"It is as if Dante had gone to hell with a cassette recording of Jimi Hendrix and a pocketful of pills: our first rock-and-roll war, stoned murder."
Friendship with Kubrick
Herr told the LA Times in 1990: "The reception [for Dispatches] couldn't have been better, frankly - it couldn't have been more wonderful.
"It totally changed my life. But it also blew my cover."
However his writing did draw him to the attention of film makers Coppola and Kubrick.
Herr went on to become a friend of Kubrick's, and wrote in Vanity Fair in 2010: "Stanley wanted to meet me because he'd liked Dispatches.
"It was the first thing he said to me when we met. The second thing he said to me was that he didn't want to make a movie of it. He meant this as a compliment, sort of, but he also wanted to make sure I wasn't getting any ideas."
The writer, who died after a long illness, leaves his wife Valerie and two daughters.