Neil Fox and Pat Sharp join new London radio station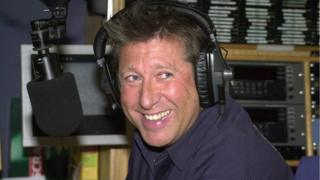 Neil Fox is among the presenters on a new digital radio station launching in London this weekend.
Thames Radio will be a hit music station, playing songs predominantly from the 1980s and 1990s.
It marks the first time Fox will be heard presenting his own radio programme since he exited the Magic breakfast show in September 2014.
The DJ had been accused of sexually abusing fans and colleagues but was later cleared of all charges.
'Cap it all'
Fox said: "I can't wait to get back on-air in the greatest city on earth.
"Playing London's all-time favourite songs and being able to talk about everything that's happening in the place in which I live and love is going to be an absolute blast."
He added: "This is the station I have wanted to listen to for years, but it simply didn't exist."
Former Fun House presenter Pat Sharp will also host a show on the station, which is owned by Nation Broadcasting.
Sharp, best known as the former presenter of Fun House, said: "For me, being on air once more at a station that will live and breathe London, could actually cap it all."
The station's launch is being overseen by Chris Stevens, who is a former programme director for Smooth Radio.