Don McLean finalises divorce with wife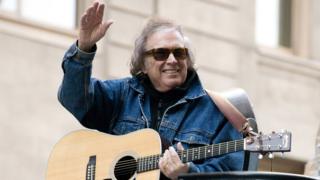 Don McLean and his wife have finalised their divorce - agreeing to a settlement of $10m (£6.8m).
A spokesman for McLean said the singer "chose to ignore a premarital agreement" in providing the settlement.
McLean's wife Patrisha, an author and photographer, filed for divorce citing "adultery, cruel and abusive treatment, and irreconcilable differences" in legal papers.
The couple had been married for 29 years and have two adult children.
McLean, who lives in the coastal town of Camden, Maine, was arrested in January on charges including domestic violence assault.
The singer's wife claimed he engaged in a pattern of abuse going back three decades.
McLean "vigorously denied" his wife's allegations, and, following his arrest, asked his fans not to judge him.
"What is occurring is the very painful breakdown of an almost 30-year relationship... There are no winners or losers but I am not a villain," he wrote in a statement posted on his official website.
He later pleaded not guilty to a total of six charges - including domestic violence assault.
The singer is best known for his 1971 hit American Pie - the lyrics of which have always been the subject of much speculation among music fans.
The original working manuscript for the song was auctioned for $1.2m (£840,500) last year.