Olivia Colman to star in We're Going on a Bear Hunt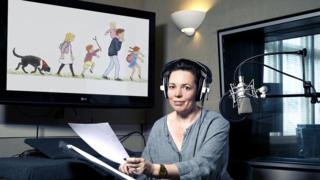 Olivia Colman is to lend her voice to the role of mum in Channel 4's animated adaptation of the classic children's book We're Going on a Bear Hunt.
Michael Rosen, who wrote the best-selling bedtime book, will play the Bear.
Call the Midwife's Pam Ferris and Harry Potter's Mark Williams will play Grandma and Dad.
The half-hour special, produced by the makers The Snowman and The Snowdog, will air at Christmas.
The 25 year-old children's classic follows the adventures of five siblings and Rufus the dog who go off in search of bears.
Colman said she was drawn to the role of the children's mother.
"What appealed to me about the story is the bond the family have - they care for, and look after, each other," she said.
"Another wonderful aspect of the story is that it's kids enjoying a natural adventure with their imaginations, fresh air and the wilderness.
"I love that they commit to their adventure…I would like to go with them!"
Camilla Deakin, producer for Lupus Films, who are making the film for Channel 4 said they were "thrilled to have attracted the services of such a high-calibre cast".
'Powerful family saga'
"Olivia Colman, Pam Ferris and Mark Williams are wonderful actors with highly distinctive styles and we're delighted that they are joining us for this timeless adventure, along with Michael Rosen who makes a very convincing bear," she said.
The animation will bring the classic artwork by Helen Oxenbury to life.
When it was announced the adaptation was being made, Rosen said he was "absolutely delighted" that Channel 4 had commissioned it.
"Helen Oxenbury's wonderful art work provides a powerful family saga, full of imagined or real trials and these pictures will give a basis for a moving Christmas drama," he said.