Bill Murray to receive Mark Twain Prize for comedy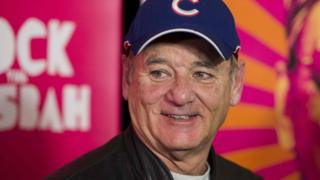 Actor and comedian Bill Murray has been named as the recipient of the annual Mark Twain Prize for American Humor.
It is awarded by the John F Kennedy Center for the Performing Arts to those who have impacted US society "in ways similar to the 19th Century novelist".
The Ghostbusters, Groundhog Day and Caddyshack star said he was honoured to receive the award.
He added that Twain had "rolled over in his grave so much for so long that this news won't disturb his peace".
Murray came to prominence in the late 1970s on the popular US TV show Saturday Night Live.
He won several awards for his portrayal of a jet-lagged actor in 2003's Lost In Translation and has appeared in many of Oscar-nominated director Wes Anderson's films including Rushmore, The Royal Tenenbaums and The Life Aquatic with Steve Zissou.
He will receive the award at a gala performance in Washington in October.
The prize was first handed out in 1998 to Richard Pryor. Past winners include Tina Fey, Bill Cosby, Billy Crystal, Eddie Murphy, Will Ferrell and Ellen DeGeneres.
Twain, who was born Samuel Clemens, was "a fearless observer of society, who startled many while delighting and informing many more with his uncompromising perspective of social injustice and personal folly", a spokesman for the Kennedy Center said.