Daniel Radcliffe remembers 'generous' Sir Peter Shaffer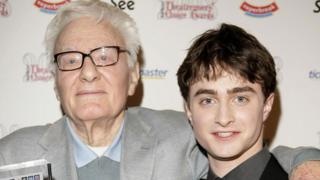 Harry Potter star Daniel Radcliffe has joined tributes to Sir Peter Shaffer, describing the late dramatist as "one of the UK's greatest playwrights".
Radcliffe, who made his West End debut in a revival of Sir Peter's 1973 play Equus, said he was "also an incredibly kind, generous and funny man".
"I feel very privileged to have worked with him and will miss him," he added.
Sir Peter, whose other plays included Amadeus, was on a visit to Ireland when he died on Monday at the age of 90.
His other plays included Black Comedy, Lettice and Lovage, The Royal Hunt of the Sun and Five Finger Exercise.
Radcliffe, now 26, was 17 when he first appeared in Equus as a disturbed young man who blinds six horses.
The actor said the London production "remains one of the most important and valuable things I've ever done in terms of how much I learnt from it".
"I will forever be grateful to [Sir Peter] for trusting me to play the character of Alan Strang at a time when I had extremely limited experience on stage," his Facebook tribute continues.
Radcliffe, who went on to appear in Equus on Broadway, said the playwright had "created challenging, moving and fantastically theatrical work".
Actor Simon Callow and National Theatre director Rufus Norris are among others to have paid tribute to the writer, who won Tony awards for both Amadeus and Equus.
A private funeral will be held in London shortly, with details of a memorial ceremony to be announced at a later date.