Eurovision snares 204 million global TV viewers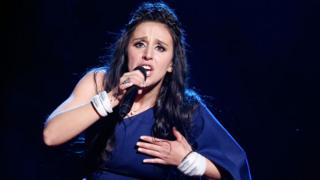 The Eurovision Song Contest final and two semi-finals were watched by 204 million viewers in 42 countries, beating 2015's figures by five million.
The final averaged an audience share of 36.3% across 40 countries - more than double the average prime-time viewing share for the same group of channels.
The largest audience for the final was in Germany, with 9.3 million viewers, accounting for 36.8% of its TV viewing.
Iceland had the largest viewing share - 95.3% of its inhabitants tuned in.
It has a population of just 328,000 and the majority were keen to watch the final despite their entry not making it past the semis.
Sweden, which hosted the show in Stockholm, had its largest audience since 2000 with 3.6 million viewers for the final, or 84.7% of the population.
Winning country Ukraine had its highest Eurovision figures since 2010, with 1.5 million viewers watching Jamala top the leaderboard.
UK viewing figures were also up, with the final - which included a performance from Justin Timberlake - watched in the UK by an average of 7.2 million viewers, beating 2015's 6.6 million viewers.
Eurovision also attracted younger audiences, with 42.4% of of 15-24 year olds watching it in 40 countries. This was more than four times the average prime-time viewing share of young adults for the same group of channels (10.4%).
Online, the semis and final were live streamed 2.6 million times in 196 territories on Eurovision.tv and YouTube, and there were 5.3 million on-demand requests.
The European Broadcasting Union (EBU), an alliance of public service media, worked with Sweden's SVT on producing this year's Eurovision show.
EBU executive Jon Ola Sand, who oversaw the production in Stockholm, said the broadcaster "totally raised the bar both creatively and technologically" and said he looked forward to working with next year's hosts in Ukraine.
The grand final was also broadcast by 19 EBU radio members.