Broadway sees record attendance numbers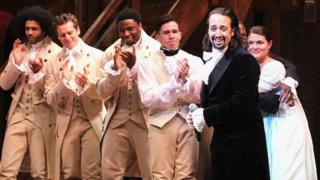 Broadway theatre admissions reached a record high of 13.3 million over the 2015-16 season, according to the Broadway League.
Recorded up until Sunday, attendance at New York's main theatres went up 1.6% compared to the previous year, the industry trade group said.
However, the amount of money taken by the theatres rose only slightly.
It is thought audiences have been taking advantage of a drop in prices, even for the hottest shows.
The average price for admission fell for the first time on record, from £104.18 (£71.40) the previous year to $103.11 (£70.63) this last season, the league said.
League president Charlotte St Martin said the drop could be a result of "dynamic pricing", where ticket prices rise and fall according to demand at any particular time of the day, week or month.
"Dynamic pricing is about opening the faucet when you need the business," Ms St Martin told the all Street Journal.
The low rise in box office revenue points to the public becoming more savvy about when the most financially advantageous time is to enjoy a show.
Hit shows
The overall takings for Broadway theatres was $1.37bn (£890.7m) - up 0.6% from the previous season.
That rise represents around $8m (£5.5m), which though moderate by traditional industry standards, still leads to a record revenue total.
Thirty-nine shows opened during the season - two more than the previous year - which began on 31 May 2015. There were 16 musicals, 20 plays and three special events.
Tony award-winning musical Hamilton, which tells the story of America's birth and founding father Alexander Hamilton in a rap and R&B style, largely helped contribute to the overall Broadway box office success, taking $74m (£51m).
Other popular musicals buoying up sales included Wicked, Aladdin, The Book of Mormon and, perennial favourite, The Lion King - which was the most successful musical of the season taking £102.7m (£70m).
In the non-musical category, The Curious Incident of the Dog in the Night-Time was the most successful taking $32.9m (£22.5m)
A number of plays featuring Hollywood A-listers also helped attract theatregoers, including Blackbird with Jeff Daniels and Michelle Williams, the Saorise Ronan-led The Crucible, China Doll with Al Pacino and Misery featuring Bruce Willis.