Michael Buble cancels appearances to recover from vocal surgery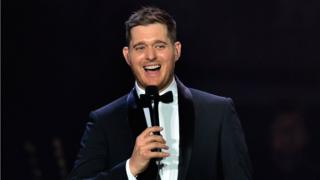 Michael Buble has cancelled appearances at two upcoming events so he can recover from surgery on his vocal cords.
The singer will now not perform at a Marvin Gaye tribute concert or attend a Canadian awards ceremony.
Writing on Twitter, he said there would be "no talking or singing for a while" once he has had the operation.
Buble reassured fans his "doctors expect a complete recovery" and thanked fans for their prayers and good wishes.
Fans responded to Buble's tweet with messages of support, while singer Josh Groban said: "Sending so much love and healthy thoughts to your one of a kind pipes, get well soon my friend."
Buble is the latest of several high-profile singers to take time out from performing after vocal surgery.
Adele and Sam Smith have both had vocal cord surgery in recent years and gone on to make full recoveries.