Birdsong broadcasts and nightingale 'duets' come to BBC Radio 3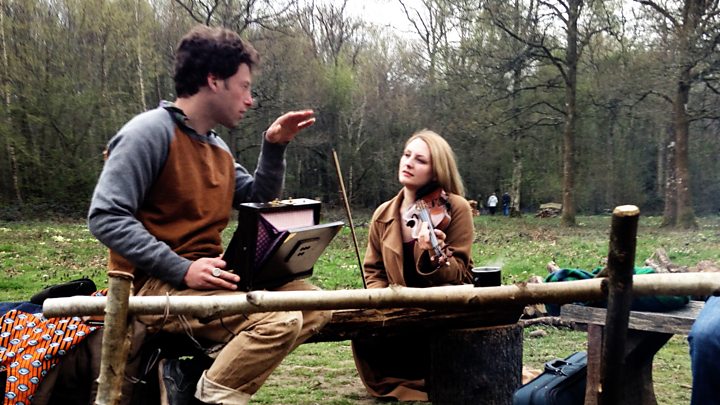 BBC Radio 3 is to regularly broadcast birdsong as part of its commitment to "slow radio", giving its listeners the chance to pause and reflect.
Nightingale "duets" will feature on evening programmes, with musicians playing in the Sussex countryside while the birds sing.
At weekends, the Breakfast Birdsong segment will pair field recordings with an appropriate piece of music.
Radio 3 says the initiative could help listeners "discover a different pace".
"We know our audience has a love for the natural world and that birdsong is an enduring British interest," said station controller Alan Davey.
"We hope that these new birdsong-inspired features and performances... will offer our audiences a real chance to reflect and catch-up.
"And if you have never heard a nightingale before, this will bring magic into your life."
The programming began on Sunday's International Dawn Chorus Day, as cuckoos, nightingales and garden warbler were featured on the weekend breakfast show.
The nightingale recordings will be overseen by singer and folk song collector Sam Lee, who will take colleagues deep into the woods to create new works responding to the famously musical birds.
Among his collaborators will be singer and violinist Alice Zawadzki, saxophonist Rachel Musson and Hyelim Kim, who plays the taegum, a Korean bamboo flute.
The late night sessions will be broadcast on Late Junction and World on 3 between 10 and 13 May.
Later in the summer, Radio 3 will broadcast a complete performance of Messiaen's birdsong-inspired Catalogue d'Oiseaux, from the Aldeburgh Festival.
Four concerts will be held along the Suffolk coast, timed to coincide with the birds featured in each piece.
This includes a pre-dawn chorus at the reed beds at Snape Maltings and a pre-dusk performance amidst the teeming wildlife of the RSPB Minsmere nature reserve.