Alec Baldwin to host US version of Blankety Blank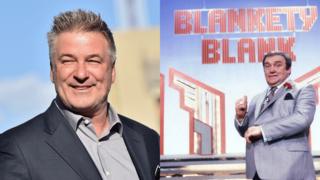 Actor Alec Baldwin is to host a revival of US quiz show Match Game, the inspiration for UK game show Blankety Blank.
The panel show features six celebrities who help contestants match phrases by filling in missing blanked out words.
Match Game premiered in the US in the 1960s and ran in different incarnations until the 1990s.
Baldwin will donate his fee to the foundation he runs with his wife, which supports arts charities.
Baldwin tweeted the news: "Get ready to match the stars and laugh your BLANK off, because I'm hosting #MatchGame. This secret nearly made me BLANK!"
He said he and his wife, Hilaria, were "beyond grateful" to US network ABC "for the chance to support the arts".
"Hilaria and I are thrilled to donate this fee to arts-related charities. And we look forward to having a lot of fun," he said.
The show, which will also be produced by Baldwin, will be air on ABC on 26 June.
The UK version of the show was a big hit in the 1980s when it was broadcast on BBC One, first hosted by Sir Terry Wogan and then comic Les Dawson.
Lily Savage, Paul O'Grady's alter ego, also hosted a revival of the show from 1998 to 2002, broadcast initially on BBC One and then ITV.