Hi-de-Hi! actor Barry Howard dies at 78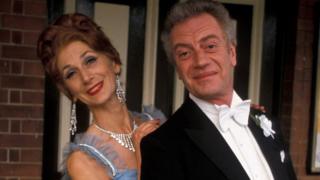 Barry Howard, who was best known for playing Barry Stuart-Hargreaves in BBC holiday camp sitcom Hi-de-Hi!, has died aged 78.
His agent told the BBC he had been suffering from blood cancer.
Howard appeared in the first seven series of Hi-de-Hi! from 1980-86, playing one half of ballroom dancing instructor couple Barry and Yvonne.
Agent Sharry Clark praised him as "very talented" and said she would "miss him more than I can say".
Born in Nottingham in 1937, Howard had a handful of small parts in TV series, including Terry and June, before landing the role of Barry in Hi-de-Hi!
Starring alongside Dianne Holland as his on-screen wife Yvonne, camp Barry often became the victim of many of the entertainment team's antics, while his snobby wife tried to preserve her dignity amid the holiday camp shenanigans.
It was often hinted that Barry was gay, although it was never confirmed on the show, and the character departed after seven series.
In 2010, Howard told The Northern Echo that he felt his casting on the sitcom had limited his roles after he left the show.
"I have found it, in all honesty, frustrating because I am, after all, an actor. Casting people always wanted a similar limp-wristed rather fey 'is he or isn't he?' character and I got bored with it all," he said.
Subsequently Howard had roles in BBC comedy You Rang, M'Lord - which also featured many of the original Hi-de-Hi! cast - Russell T Davies ITV series The House of Windsor, and George Cole comedy Dad.
He also appeared in the 2009 Doctor Who Christmas episodes, which were David Tennant's last as the Doctor.
Howard, who lived in Poole, was also a veteran of pantomime shows, and regularly appeared alongside Are You Being Served? star John Inman as the ugly sisters.
CBeebies presenter Chris Jarvis, who appeared in panto with Howard, paid tribute on Twitter saying: "So sad to hear Barry Howard has died. A real gent and incredibly funny off stage too. Happy days in Bournemouth with him and Su Pollard."