Chris Evans show faces Ofcom probe over Jeremy Irons gaffe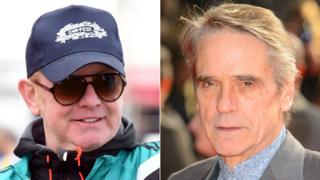 Chris Evans' Radio 2 breakfast show is to be investigated by the broadcasting watchdog over an interview with Jeremy Irons in which the actor swore.
Ofcom said the programme "included the most offensive language before the watershed" and would be investigated to see if it had breached its code.
The incident took place on 18 March as Irons recounted an anecdote involving fellow actor Sir John Hurt.
Evans immediately apologised, while Irons said he was "terribly sorry".
The Brideshead Revisited star attributed his slip to the fact that it was "so relaxed and so normal" in Evans' BBC studio.
"A little too relaxed maybe," said Evans, who went on to ask fellow guest Paloma Faith not to "make light" of the incident.
Ofcom confirmed the programme would be investigated in the latest issue of its broadcast and on demand bulletin.
"The guests were all briefed ahead of the programme to remind them they were taking part in a live broadcast," said a BBC spokeswoman.
"After Jeremy accidentally swore, both he and Chris immediately apologised to listeners."