Jungle Book holds off Huntsman challenge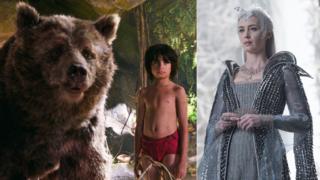 Disney's new film version of The Jungle Book made more than three times as much as its nearest rival in North American cinemas over the weekend, taking $60.8m (£42.1m) between Friday and Sunday.
That compared with the $20.1m (£13.9m) The Huntsman: Winter's War made in the US and Canada over the same period.
Chris Hemsworth, Charlize Theron and Emily Blunt appear in the follow-up to 2012's Snow White and the Huntsman.
Original star Kristen Stewart did not return for the sequel.
This, according to one pundit, partially explains why the film did not open as well as its predecessor, which earned $56.2m (£38.9m) on its debut and went on to gross $396.6m (£274.7m) worldwide.
"[Stewart] was a key reason for the opening of that first film," said Paul Dergarabedian of box office analysts comScore. "That was going to be a tough act to follow."
Comedy sequel Barbershop: The Next Cut fell one place to three, with Zootopia - released as Zootropolis in the UK - rising one place to four,
Melissa McCarthy comedy The Boss rounds out this week's top five.
North American box office top five
1. The Jungle Book
$60.8m
2. The Huntsman: Winter's War
$20.1m
3. Barbershop: The Next Cut
$10.8m
4. Zootopia
$6.6m
5. The Boss
$6.1m