Dame Judi and Sheeran auction artwork for charity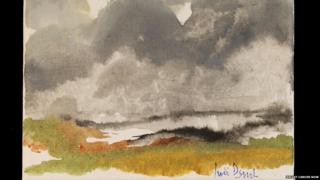 Dame Judi Dench, Ed Sheeran and Mark Rylance are among several celebrities who are auctioning off their artwork for charity.
Proceeds will raise funds for Breast Cancer Now via Art for Cure's Make Your Mark online auction.
Dame Judi is showcasing a watercolour, while most of the other participants have stuck to doodles.
Jim Broadbent penned a self-portrait while Elizabeth Hurley and Joanna Lumley covered their art in lipstick.
Rylance wrote at the bottom of his canvas: "Who do we support?"
Art For Cure is an art and sculpture show which this year features more than 80 artists and sculptors who will be donating a percentage of their sales to the charity, including Vanessa Gardiner, Maggi Hambling and Paul Vanstone.
The exhibition will take place at Suffolk's Glemham Hall from 30 April to 2 May.