Ronnie Corbett funeral to take place in South London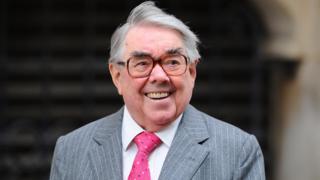 The funeral for Ronnie Corbett will take place on 18 April close to his home in south London.
It will take place at St John the Evangelist Church in Shirley, followed by a service at Croydon Crematorium which will be invitation only.
Corbett, one of Britain's best loved entertainers, died aged 85 on 31 March.
The entertainer had been suffering from ill-health for some time. His wife revealed after his death he had suspected motor neurone disease.
Family friend Michael Thornton said he hoped the funeral would be "a fitting send-off".
"I think he'll be tremendously missed by his friends but I actually think he'll be around in people's minds and hearts for a long time to come."
Famous friends will join family at the funeral followed by a wake at Addington Golf Club.
It is expected the comedian's daughters will pay tribute to the Scottish-born entertainer at the ceremony.
Corbett was best known for BBC comedy sketch show The Two Ronnies with his comedy partner Ronnie Barker.
There was an outpouring of tributes from his famous friends following his death, including from Sir Bruce Forsyth, John Cleese and Jimmy Tarbuck.
Other famous admirers who included US singer Alice Cooper, Robbie Williams, Ricky Gervais and David Walliams.