Alan Ayckbourn bemoans stage influence of 'fast' TV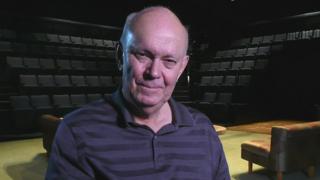 Sir Alan Ayckbourn has said the fast pace of modern TV is pressuring theatre writers to shorten their works.
Speaking at the Oxford Literary Festival, Sir Alan said attention spans were now so poor that a two-hour play felt like a "marathon".
"A stage play asks a live audience to sit still in excess of two hours, which nowadays is a marathon," The Daily Telegraph reported.
The playwright is best known for works such as Bedroom Farce.
The play was his first to be staged a London's prestigious National Theatre in 1977, and set an early trend for the playwright to become known for focusing on the bitter-sweet world of middle-class domesticity.
With 79 plays under his belt, Sir Alan has established he has a much wider range, taking in politics among other strong topics, most notably in A Small Family Business, and musical theatre in The Boy who Fell into a Book.
He said in his festival speech writing for the theatre now was not how it had been in the past and was becoming more "influenced by writing for television".
He said TV shows depended on a series of short scenes changing quickly because viewers had got the habit of "flipping" from one scenario to another and as a result, had become much harder to attract audiences to long plays.
"Most television is short, sharp plays which flip, flip, flip, and then you've got a commercial break where you can get up and make tea," he said.
"Then you're asking people to come in [to the theatre] and sit down."
Fellowship
He went on to say he admired the inventiveness of modern writers who were adapting to new audience demands.
Traditional theatre conventions, such as even dropping the curtain in the interval, were now more easily rejected, he said.
"Writing in the theatre is strongly influenced by writing for television, quite honestly. You don't get the old stage play as it was. Some of the plays get shorter because of the necessity of modern haste."
He also told The Telegraph his plays were becoming shorter and more focused - not because of TV, but because experience had taught him to be more focused.
Whilst at the annual Oxford Festival, the Olivier and Tony Award-winning playwright was honoured with a fellowship in recognition of his work.
More than half the body of his plays have been produced in London's West End, as well as around the world. Sir Alan also acts as a stage director and runs his own company at the National Theatre.
He is also the supporter of regional theatre and was the artistic director of the Stephen Joseph Theatre in Scarborough from 1972 to 2009.