NWA inducted to Rock and Roll Hall of Fame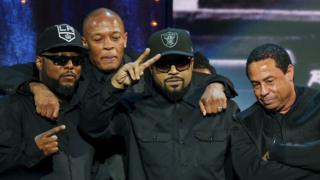 Rappers NWA have been inducted into the Rock and Roll Hall of Fame in New York.
The group are just the fifth hip-hop act to be voted into the hall, having been nominated three times previously.
Founding member Ice Cube said the quintet had earned their place, just as the pioneers of jazz, blues, punk, rock and pop before them.
"Rock and roll is not conforming to the people who came before you, but creating your own path in music and in life," he said.
"We have come a long way from being so hated in the industry to making it to the Rock and Roll Hall of Fame. Are we rock and roll? You're damn right we're rock and roll."
Ice Cube's comments came amid criticism from some rock acts, including Kiss frontman Gene Simmons, about including rap artists in the rock hall.
NWA's rise to fame was charted in the 2015 film Straight Outta Compton, named after one of their best-known songs.
The group caused controversy for their often inflammatory songs that reflected the violence, crime and anti-police sentiments of their Los Angeles neighbourhood and went on to sell more than 100 million records.
They were inducted at the ceremony by rapper Kendrick Lamar, who said the group had "proved to every kid in the ghetto that you could be successful and still have your voice while doing it".
Artists are eligible for inclusion into the rock hall 25 years after the release of their first recording.
Among the other acts inducted included Cheap Trick, Chicago and British band Deep Purple.
Singer Steve Miller was also inducted, but after he performed a medley of hits including The Joker with his band, he criticised the rock hall backstage, calling the ceremony a "lazy" night with "a bunch of fat cats".
"I don't know why I was nominated for this," the 72-year-old musician said in an interview. "I said this for 30 years - I don't get along with the people running it.
"It wasn't very overwhelming. It was a lazy kind of night with a bunch of fat cats at the dinner table. It's not a real pleasant experience to tell you the truth."
The singer complained he had been offered only two tickets for family and friends to the ceremony and said he appeared only for the sake of his fans, saying: "My fans take it seriously. I really didn't want to show up.
"I think it's time for the people running this to turn it over to new people because it doesn't need to be this difficult. People in the crews are nice, but people that are running it at the top have no concept of how to run a concert or how to run an award ceremony or how to take care of artists."
The singer even questioned the purpose of the rock hall adding: "You tell me what the hell is the Rock and Roll Hall of Fame, and what does it do besides talk about itself and sell postcards?"
Following Miller's comments. the rock hall said: "Rock and roll can ignite many opinions. It's what makes it so great. The Rock and Roll Hall of Fame was honoured to induct Steve Miller."
According to its website, the Rock and Roll Hall of Fame was set up to "recognise the contributions of those who have had a significant impact on the evolution, development and perpetuation" of the genre and exists to "engage, teach and inspire through the power of rock and roll".