Charlie Sheen investigated by US police over alleged threats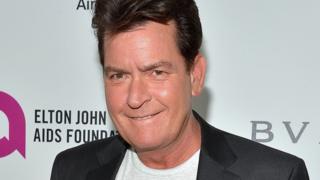 Actor Charlie Sheen is facing a police investigation over claims he made threats against an ex-girlfriend, who is suing him for assault and battery.
The National Enquirer and RadarOnline reported a 35-minute recording, apparently of the actor, making threats about former porn star Scottine Ross.
Ms Ross has taken legal action against Sheen, claiming he physically abused her and had sex with her without disclosing his HIV positive status.
Sheen has not commented on the reports.
Earlier this week, police officers served a search warrant on the New York headquarters of American Media Inc, the parent company of both RadarOnline and the Enquirer.
According to the warrant, the Los Angeles police investigation was triggered when Ms Ross made a complaint on 31 March saying she feared for her life after reading the reports.
On Thursday, the publications - neither of which have published the audio alleged to contain the star saying he would like to see a former fiancee "have her head kicked in" - refused to hand over the material to police.
Dylan Howard, the Enquirer's editor-in-chief and editorial director of RadarOnline, told Reuters the outlets had no plans to turn over documents or identify their sources.
He said the search warrant, signed by an LA County Superior Court judge, was illegal under both state and federal law preventing the use of such warrants against media organisations relating to "newsworthy" information.
He said: "We do believe that a judge did issue this order against the law, and that's why we will not be complying with its order."
In a televised interview in November 2015, Sheen said he had been diagnosed with HIV four years earlier.
The former star of Two and Half Men and films including Wall Street and Platoon admitted his history of drink and drug abuse was a "bad decision" but said it was "impossible" he would have passed HIV on to anyone else.
In December, Ms Ross - who was engaged to Sheen in 2014 before the relationship was broken off - filed a legal action against him accusing him of "physical, psychological and emotional abuse".