Hugh Jackman thanked for Bondi Beach rescue role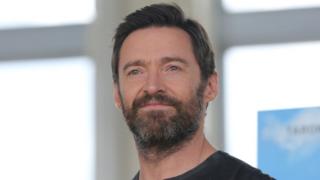 X-Men star Hugh Jackman has been thanked for helping his children and other swimmers after they got caught in a rip current at Sydney's Bondi Beach.
Australia's Nine News showed footage of Saturday's incident, with Jackman helping pull his daughter from the water with the help of another swimmer.
Lifeguards then helped bring Jackman's teenage son to safety after he got into difficulties due to the strong current.
North Bondi Surf Life Saving Club thanked Jackman for his assistance.
The beach was closed for the rest of the day due to the conditions.
In a post on Instagram, North Bondi Surf Life Saving Club wrote: "The beach had to be closed due to dangerous conditions, multiple rescues happening all at once and limited resources.
"@thehughjackman was also spotted assisting with rescues! Thanks Hugh."
Lifeguard Trent Falson told Australia's Nine News that the actor thanked him for doing an "amazing job" by bringing his son Oscar ashore.
"He said you guys did an amazing job, I think he thanked me about three times on the way up the sand," he said.
Peter Adam was swimming when the incident happened and assisted the Hollywood actor in helping his daughter Ava, later admitting he was "a little bit" starstruck.
'Cool, calm and collected'
He told Nine News: "His daughter was struggling to get on to the sandbar so I reached down, grabbed her arm and put my arm up to Hugh to make a chain to pull us up on the sand bar.
"That's what you do with any family out there."
Adam added: "He wasn't rescuing me, I was assisting him to get his daughter up to the sandbar. He then grabbed my hand to get us up. He then went to get his son."
Local Dan Conn said Oscar had been carried out again by the strong current but that Jackman had remained "pretty cool, calm and collected" throughout.