Sony deal paves way for SoundCloud subscription service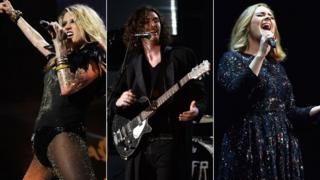 Music streaming site SoundCloud has resolved a dispute with Sony Music, removing a major obstacle to its plans to launch a subscription service.
Sony had previously pulled its music - including songs by Adele, Kesha and Hozier - from the site in protest at "a lack of monetisation opportunities".
The move angered some artists, such as French DJ Madeon, who said the label removed music "against my will".
But a year of negotiations has ended in a new licensing deal.
It gives SoundCloud access to all of Sony's artists, including those on subsidiaries The Orchard and Sony Red Distribution, worldwide.
The site, which offers more than 100 million songs for free, already has deals with the other two major labels - Warner Music and Universal - as well as hundreds of independents.
In a statement, SoundCloud said it would launch its long-awaited subscription service "later this year." Record companies favour such platforms over free ones because they pay higher royalty rates.
SoundCloud launched in 2008 as a "YouTube for music". It allows artists, musicians, DJs and creators of other kinds of audio content, like podcasts, to post material and share it on blogs and social media.
Many acts started out by sharing their compositions on the site, while dance artists embraced the opportunity to post exclusive mixes and DJ sets.
But it became a target for the music industry, not just because of the illegally uploaded tracks it hosted, but because record labels were not making money from the music they posted themselves.
The situation improved in 2014, as the site began running advertisements and developed tools to detect and remove unlicensed content.
The deal with Sony comes at a crucial time for the German company, whose dominance in dance music is being challenged by Mixcloud and Apple Music, which last week struck a deal allowing it to stream thousands of previously unavailable remixes and mash-ups.
"We are pleased to be making content from Sony Music Entertainment available to SoundCloud's large user base of highly-engaged, passionate music fans," said Dennis Kooker, Sony's president of global digital business and US sales.
"This agreement creates a business framework for the use of Sony Music songs on the SoundCloud platform that meets the needs of our artists and labels, and supports the growth of SoundCloud through its new premium on-demand music tier."
"Today is of particular significance to us as a company, as we now have deals in place with all of the major music labels," said SoundCloud founder and chief executive officer Alexander Ljung. "We are very excited to be working with SME and cannot wait to see what we can achieve together as we continue to transform the future of music online."