Five Mockingbird quotes people are sharing to remember Harper Lee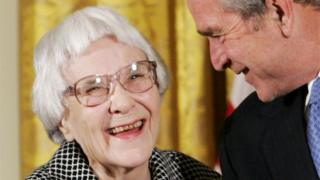 "There's just one kind of folks. Folks."
As news that Harper Lee, author of To Kill a Mockingbird, had died started to spread among her fans, they took to social media to pay their respects and to share their favourite quotes.
The story of a white lawyer defending a black man accused of rape in America's deep South inspired a generation and inspired some great lines:
One line shared by hundreds of you is Scout's line about folks:
Erin Dealey was moved to quote Scout's father, Atticus Finch:
While it was another of Atticus's lines that inspired Literary Interest, which tweeted a quote aimed to get people to stand up for what they believe in:
And finally Scout's love of books was the quote that Kenyon Review wanted to share: