Brothers in arms: How the Coens' Hail, Caesar sums them up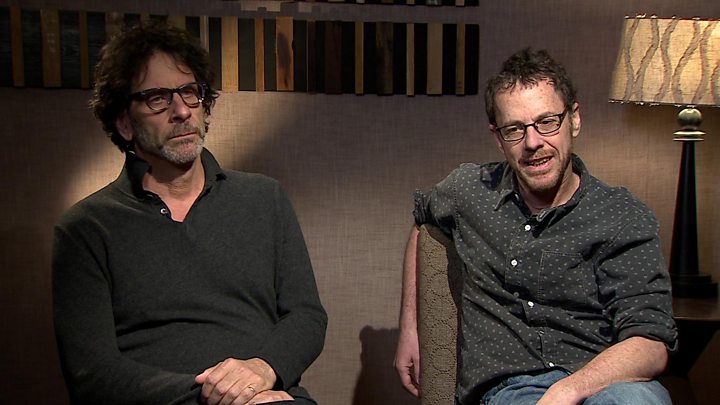 There's a scene in the Coen brothers' new movie Hail, Caesar! that kind of sums it and them up. It takes place in an isolated seaside house a few miles outside of Hollywood. It's the 1950s.
The faintly moronic Baird Whitlock - played with a twinkle in both eyes by George Clooney - sits in a room full of quasi-intellectual screenwriters and pontificates while waving around a couple of sausages-on-a-stick.
Clooney is dressed in a Roman centurion's outfit with a particularly short tunic, a design feature of which we are made painfully aware by his habit of always sitting legs splayed like a pundit on Match of the Day.
The screenwriters are dressed more soberly in tweed suits. They are Communists - who, just happened to have kidnapped the hapless actor while he was taking a break from filming.
It's goofy. And surreal. And throws you slightly off balance. Because it is bizarre: a curve ball full of humour undercut with a little menace.
It is at once slight and significant, silly and serious, genre-shtick and avant-garde. Which is a reasonable summation of the film, and the Coen brothers.
It's not their greatest work (that'd be Fargo or The Big Lebowski, don't you think?). But it is a solid piece that fits into their overall oeuvre without taking it forward.
Maybe it's a bit lazy. Containing, as it does, many familiar Coen tropes, including their recurring plot device of a kidnap. But Clooney wanted to do it, they told me. And he'd been banging on about it for ages.
And for them it was the chance to explore the role of an old-school Hollywood fixer (Eddie Mannix, played by Josh Brolin), with some Christ-like connotations about shouldering the burdens of other people's sins.
Meeting them was instructive. I thought Joel (older, taller) would be taciturn and Ethan (who does the typing) talkative. Not so. It was the other way round.
Me: Do you, Ethan focus more on the words and Joel on the story?
Ethan: I would say that any attempt to impose a division of labour would be pretty artificial.
Me: There must be some division?
Joel: I guess there must be. I'm sure it's true to a certain extent. But it is so fluid. The scripts develop out of a conversation and then the conversation becomes more and more concrete.
Me: Do you disagree ever?
Joel: Well, yeah. We disagree about particulars just as you would with anyone else you're collaborating with. That's just the nature of movie-making. It's a social enterprise. It's all about collaboration. And the good collaborations are not the ones where you always know what's right, but those when you know the other person is right.
The Coens like to collaborate. With each other, and with what has become a loose ensemble of actors (Frances McDormand - Joel's wife - John Goodman etc) and technicians (Roger Deakins, cinematography, Carter Burwell music).
Those with whom they work often speak about the brothers' incredible attention to detail. How each morning their actors wake up to a delivery of "sides" (the lines they need to know for the day), together with a scene-by-scene storyboard of the day's shooting schedule: the script rarely varies from the original (unusual), the set is usually harmonious.
They worry about repeating themselves. Because they do. Like the time they were filming a scene in Fargo where there's an oncoming car and a slightly less than dead corpse.
When it wrapped Joel turned to Ethan and asked: "Haven't we shot this exact same thing before?" Ethan nodded and said: "Blood Simple."
But that's okay. How many haystacks and poplar trees did Monet paint? Loads. And they're all good. As are the vast majority of the 17 movies the Coen Brothers have written and directed.
Hail, Caesar! is released in the UK on 4 March.