Gwyneth Paltrow stalker 'wanted to marry her'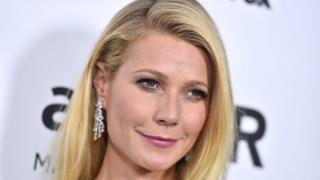 A man charged with stalking Gwyneth Paltrow has told a Los Angeles court he sent her dozens of letters in the hope she might want to marry him.
Dante Michael Soiu added he wanted to show love and friendship and how he was not bitter about her testifying against him in a previous stalking case.
Mr Soiu allegedly stalked the actress for 17 years, but the case focuses on letters sent from 2009-2015.
Ms Paltrow has told how the letters had made her fear for her family's safety.
The actress had cried when she told the court earlier in the week how Mr Soiu had allegedly sent around 70 messages - of which some talked of her death - along with other items.
She said the letters ranged from "religious to pornographic to threatening".
In a previous 2000 stalking trial involving letters he had sent to the actress - some pornographic and including sex toys - Mr Soiu was found not guilty by reason of insanity and was sent to a psychiatric hospital for three years.
He was re-arrested last year after allegedly sending the actress more correspondence.
On Wednesday Mr Soiu told the court his aim in sending the letters in the current case had been to let Ms Paltrow know he was available and willing to marry her if the opportunity arose and that he wanted to put the past behind him.
"I was trying to show I had changed and I had become a different person," Mr Soiu said. "I wanted to show a new face towards her."
'Bowing to death'
He added that he wrote to many public figures, including President Barack Obama, Israeli Prime Minister Benjamin Netanyahu and Russian President Vladimir Putin, wanting to offer them advice on world affairs.
But he conceded his correspondence with the actress was the only time he had talked of marriage.
Mr Soiu has pleaded not guilty to one count of stalking and has said that at the time of the previous trial he had been addicted to pornography but was now on medication and considered himself well.
His lawyer has told the court the actress had misinterpreted her client's letters, many of which were biblical in nature and were therefore intended to give her a religious, not threatening message.
On Monday, Ms Paltrow told the court how the recent letters talked not just of marriage but also of her death and that he had sent her items such as a cookbook, jewellery and clothing.
The actress read aloud from some of the letters, one of which said: "I have a goal: to marry Gwyneth Paltrow and take care of her."
In another, Mr Soiu had described her as "bowing to death" and being "hopelessly lost".
Asked by the prosecution lawyer if she had been scared by the messages, the actress had said "I felt very upset by it... This has been a very long and very traumatic experience already."
Ms Paltrow has two children from her marriage with Coldplay frontman Chris Martin.
The couple are separated after filing for divorce in 2015.