Inside Out wins big at Annie animation awards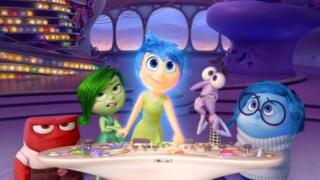 Inside Out was the big winner at this year's Annie Awards for animation on Saturday.
The film won 10 prizes including best animated feature and best director for Pete Docter.
The Disney/Pixar film beat fellow nominees Shaun the Sheep Movie, The Peanuts Movie and The Good Dinosaur.
Inside Out, which travels into the mind of an 11-year-old girl, is nominated for two Oscars, including best animated feature.
Despite not winning the top prize, 3-D adventure The Good Dinosaur, also from Pixar - about the young dinosaur Arlo who becomes friends with a human - won the award for best animated effects. Overall, Pixar took home 11 awards.
He Named Me Malala, the documentary about the Pakistani schoolgirl who survived an attack by the Taliban, earned the award for animated special production.
Though a documentary, the film uses animated sequences to tell mythical elements of Malala's story, as well as trying to tell the story of her life in Pakistan.
Oscar hopes
Boy and the World - a film about the young boy Cuca who has to survive alone when his father leaves in search of work - received the Annie for the best animated independent feature.
This is the first year of this award following the decision of Asifa-Hollywood, the organisation behind the Annies, to split the best animated feature category into two to give less-seen films a chance at a prize.
In the TV categories, long-running hit series The Simpsons took home the best animated TV show award.
Disney also did well, taking home five awards - three for Disney Mickey Mouse, one for Wander Over Yonder and the other for Gravity Falls.
Boy and the World will compete with Inside Out again for the best animated feature Oscar at the Academy Awards on 28 February.
Anomalisa, Shaun the Sheep Movie and When Marnie Was There are also nominated.
The Annie Awards and the Oscars have not always seen eye to eye, since the best animated feature Oscar category was introduced in 2001.
Last year, How to Train Your Dragon 2 won the best feature Annie, while the Academy Award for best animation went to Big Hero 6.