Hot Licks singer Dan Hicks dies at 74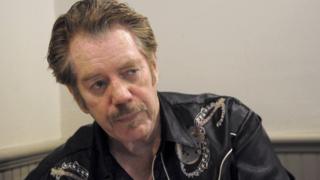 Singer Dan Hicks, best-known as the lead musician and founder of the 70s acoustic band Hicks and His Hot Licks, has died at the age of 74.
Hicks had been suffering with throat and liver cancer and his wife announced his death on his website.
"He was true blue, one of a kind, and did it all his own way always," said Clare "CT" Hicks.
Hot Licks' hits included I Scare Myself and Canned Music, which blended genre such as country, blues, jazz and swing.
His wife also wrote: "To all who loved him, know that he will live forever in the words, songs, and art that he spent his life creating. He worked so hard on each and every detail - they are all pure Dan."
Hicks was born in Little Rock, Arkansas into a military family who moved to California when he was five.
When he first became interested in becoming a musician, it was as a drummer. It was only later that he learned to sing and play guitar.
Hit albums
He began his musical career in San Francisco in the 1960s playing drums for rock band The Charlatans.
The band had significant influence on the city's music scene, along with the likes of Jefferson Airplane and the Grateful Dead.
Branching out on his own, Hicks formed the Hot Licks in the late 1960s.
At the peak of his career, Hicks recorded several successful albums including Where's The Money?, Striking It Rich and Last Train To Hicksville.
This last album saw Hicks feature on the cover of Rolling Stone magazine. But the band broke in 1973 at the height of its popularity.
Hicks went on to form a new group called The Acoustic Warriors, which again blended genres folk, swing, jazz and country. The band released one album called Private Music in 1996.