Benjamin Millepied: Paris Opera Ballet director steps down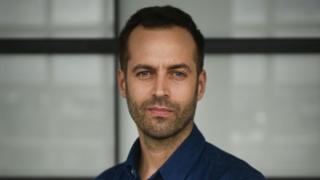 Choreographer Benjamin Millepied has confirmed that he is stepping down as director of Paris Opera Ballet.
Millepied, who joined the company in November 2014 and was set to unveil his new season next week, said he was leaving "for personal reasons".
He is married to Natalie Portman, having worked with the actress for her performance as an obsessed ballerina in 2010 film Black Swan.
Former principal ballerina Aurelie Dupont will take his place.
World premiere
Dupont, currently the ballet mistress at Paris Opera Ballet, will take up the role in August, the company announced in a tweet.
The world premiere of a ballet choreographed by Millepied, La nuit s'acheve - which translates as "the night ends" - is due to open in Paris on Friday.
Founded in 1661 by Louis XIV, Paris Opera Ballet is the oldest and one of the most prestigious ballet companies in the world.
In a statement posted on Twitter, Millepied - who has also directed films and music videos - said he wanted to "concentrate 100 percent on creating" instead of administration.
He added: "My functions as director... take up so much time that they have considerably reduced that for artistic creation, which is essential in my view."
He said he had originally accepted the position with "great honour and gratitude" and expressed his love for the company.
Millepied had recently criticised the ballet company in a documentary.
The behind-the-scenes programme, shown in France shortly before Christmas, saw him say performances sometimes looked like "wallpaper... and were deadly boring".
In the documentary, broadcast on Canal+, he also said the ballet was too hierarchical and beset by internal competition.
He also said the ballet was not as "excellent" as it claimed to be, but added that its troupe could be "perhaps the best modern dance group in the world".
A former principal dancer with the New York City Ballet, Millepied left that company in 2011 to found the LA Dance Project.
Millepied has a four-year-old son, Aleph, with Portman, who won the best actress Oscar for Darren Aronofsky film Black Swan.
They live together in Paris but it has been reported that Portman, set to play Jackie Kennedy in a forthcoming biopic, wants to refocus her career in Hollywood.
The temperamental world of ballet
In 2012, Ukrainian dancer Sergei Polunin surprised his bosses at the Royal Ballet by resigning from his post as principal dancer. The following year he abruptly left the cast of a ballet version of Midnight Express, days before its UK premiere at the London Coliseum.
Sylvie Guillem's habit of turning down roles at the Royal Ballet saw its director Anthony Dowell dub her "Mademoiselle Non". She also had clashes with choreographer Sir Kenneth MacMillan, one of which was accidentally broadcast over Covent Garden's loudspeaker system.
In 1999, Italian dancer Viviana Durante had a falling-out with British dancer Bruce Sansom after he allegedly dropped her during rehearsal. The row escalated into a bitter war of words and led to her being dropped from a Far East tour. Durante left the company two years later.
Bolshoi Ballet soloist Pavel Dmitrichenko was jailed for six years in 2013 for organising an acid attack on the company's artistic director. Dmitrichenko is thought to have become upset when Sergei Filin failed to cast his girlfriend in a Bolshoi production of Swan Lake.
In 2002, the Australian Ross Stretton resigned as artistic director of the Royal Ballet after just 13 months in the job. Dancers at the company had threatened to go on strike in protest at his management style and casting decisions.
Ashley Page, artistic director of Scottish Ballet, quit his post in 2010 after failing agree a new contract with its board.
Stefano Giannetti resigned as the head of the Northern Ballet Theatre in 2000, less than a year after taking over the job.