Stage prop: Small theatres defy money woes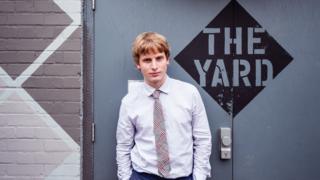 Around Britain theatres have felt the pinch financially. Yet in London in recent years there's also been a contradictory trend - a spate of new theatre openings. Mainly they're neither fully commercial nor dependent on public subsidy. So what does it take to open a new theatre and keep the lights on through the tricky early years?
The Yard opened in 2011 and it produces just a handful of shows a year. But the 110-seat theatre has brought a minor explosion of creativity to a part of London which used to have few artistic organisations.
And that sometimes worries Jay Miller, the theatre's founder and artistic director.
"We all know the game some developers can play with an artistic start-up in a down-at-heel area," he says.
"A new theatre or a gallery may bring a Bohemian edginess and glamour and soon you're heading up-market and the whole place changes. Arts organisations can get bound up with this constant cycle of gentrification."
Miller, who's from Newcastle, says he was bored with fringe theatres which either tried to be the West End in miniature or which produced drama that would work better on TV.
Probably The Yard's best-reviewed show has been Beyond Caring, about the lives of London's low-paid. It also had a run last year at the National Theatre.
"I knew I wanted to take risks but that's hard if you're paying a lot of rent or having to hire expensive rehearsal space," says Miller.
"Two things happened which brought us to Hackney Wick, which was utterly run-down.
"First it was announced that the Olympics would happen down the road and suddenly people were buying up every space going. Then came the financial problems of 2008 and Hackney Wick wasn't getting the premium tenants the landlords had expected.
"That was our cue to move in."
The theatre occupies a corner of an old industrial site next to the River Lee Navigation. Neighbours range from a hipster bar and a sustainable fashion brand to a furniture warehouse and a firm of vegetable peelers.
Executive Director Lucy Oliver-Harrison says the vegetable peelers are great in crises such as when a shutter breaks. But given that most tickets are £12.50, how does she make the finances work?
"Our turnover's roughly £600,000 a year and the basic tactic is not to rely too much on any one source of finance.
"We get an amount of project funding from the Arts Council, which is different from core funding - though they're also helpful with mentoring us as a new organisation.
"We're not funded at all by the local council, Tower Hamlets. And we're still developing relationships with the trusts and foundations which take an interest in the arts, but that's a long conversation.
"The most vital income is the restaurant and bar and the music programme we offer there. Actually it's the drinks which make the money far more than the food. People come and have a meal and then see a show and then they stay to drink afterwards. Box-office is less than 10% of what keeps us going."
Miller clearly had the ambition and energy to create The Yard, so what is his hope for the next stage of development?
"Well we don't have big corporate sponsors - partly perhaps because they don't know who we are and also I suppose we're not very corporate in our aesthetic. Yet we're often held up as a beacon of entrepreneurial activity and I think a successful business should be growing."
The Yard is the smallest of the new theatres which have opened in London this decade - growth which can only be looked at with envy outside the capital.
Arrivals since include the St James in 2012, the National's Shed opened in 2013 and is now renamed the Temporary, and the Sam Wanamaker Playhouse at Shakespeare's Globe opened in 2014.
Still to come are a new 900-seater announced by Sir Nicholas Hytner for a site near Tower Bridge and the venue which producer Nica Burns plans near Tottenham Court Road station. It's a mini-boom in London theatre construction unseen since the late 1920s.
Artistic director Jez Bond says planning and building the Park Theatre, which opened in Finsbury Park in 2012, took nine years. Unlike The Yard, it's in a highly developed residential area. There are two auditoriums - one holding 200 seats and the other 90.
Two high-profile shows last year were Dead Sheep, with Steve Nallon returning to the role of Margaret Thatcher, and An Audience with Jimmy Savile which starred Alistair McGowan.
"Six years went in just finding the right building. I knew I wanted an area which could sustain a theatre but which had very little arts provision. Accessibility was a big consideration too. The building had no theatre history: it had been offices for a charity. But being right next door to a tube station was perfect.
"Cost consultants originally told me the building work would cost £3.5m and I'm proud to say we kept it down to £2.5m. A million of income came because we were allowed by the council to add three flats to the site - without that it would have been almost impossible.
"Our ticket prices are mainly under £20. We make a little from our cafe-bar and from things like hiring out space. But currently we have to raise about £300,000 a year from donations just to keep afloat.
"When people come in the front door they always think we've had lots of Arts Council and local authority funding. In fact we've only ever had small grants for specific projects.
"Before Christmas we had a gala which raised £200,000 which was fantastic and it will give us stability for maybe 18 months. But there's a limit to how often you can do that and we desperately need some form of core funding."
Both The Yard and the Park Theatre originate in the ambitions of impressively determined founders. Though in some ways the two venues are very different, Miller and Bond express the purpose of what they're doing in much the same way.
"It's the challenge for every theatre," Bond says.
"How do you engage with your community and how do you diversify your audience? But I think it's especially true in London which is growing so quickly and the population is changing all the time.
"London's theatrical tradition is 500 years-old and it's glorious - but I think new theatres have a real responsibility to reflect the changing city about us."