Matt Smith to play photographer Mapplethorpe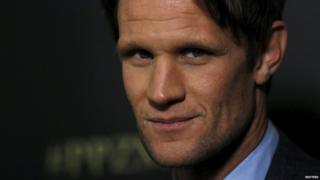 Matt Smith is to take on the role of avant-garde photographer Robert Mapplethorpe in a forthcoming film.
The Doctor Who star will be directed by the award-winning Ondi Timoner in the biopic simply titled Mapplethorpe, according to Deadline.
Zosia Mamet, known for the HBO comedy-drama Girls, has been cast to play Patti Smith, Mapplethorpe's one-time lover and best friend.
Mapplethorpe became famous with his shocking sexual images of New York.
He was very much a documenter of life throughout the 1970s and 80s and his instrument of choice was for a long time a Polaroid instant camera, rather than a sophisticated multi-lens alternative.
In an interview in 1988 with the publication Artnews, Mapplethorpe said of his work: "I don't like that particular word 'shocking'.
"I'm looking for the unexpected. I'm looking for things I've never seen before."
Director Timoner, who is also a screenwriter, has twice won the top award at the Sundance festival for independent film with her documentaries Dig! and We Live in Public.
'Indelible passion'
She tweeted that she wanted to make the film for the anniversary of Mapplethorpe's death, linking to Hollywood's story about Smith and Mamet taking starring roles.
"We'll honour Mapplethorpe on the 25th year of his death by bringing him to life on screen," she said.
She also told Deadline: "After several years of developing this script and searching across the globe for the perfect talent to embody the rich and layered roles of visionary artists Robert Mapplethorpe and Patti Smith, I am ecstatic to have found Matt Smith and Zosia Mamet.
"They will bring indelible passion, raw humanity, and authenticity to this timeless, inspiring story."
Mapplethorpe died of Aids in 1989, aged 42. An HBO documentary about his life called Mapplethorpe: Look At The Pictures made its premiere at Sundance this week.
Smith will next be seen on the big screen in comedy-horror Pride and Prejudice and Zombies, opposite Lily James, Jack Huston and Sam Riley, which opens in the UK on 11 February.
He is also making a Netflix series called The Crown, which sees him playing Prince Philip with Claire Foy playing the Queen.