Placido Domingo to reprise Macbeth role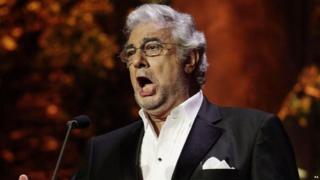 Placido Domingo is to reprise the title role in a production of Giuseppe Verdi's Macbeth at the Los Angeles Opera.
The world-renowned tenor will open the venue's 2016-17 season with the baritone role on 17 September.
The 75-year-old took on the role for the first time in 2015 at the Berlin State Opera.
Domingo, who is the LA Opera's general director, will also conduct The Tales of Hoffmann as part of the new season.
Soprano Diana Damrau will star in The Tales of Hoffmann, playing all four female roles in what will be her debut with the LA Opera.
Last year, Domingo had to miss conducting engagements at New York's Metropolitan Opera in order to have surgery to have his gallbladder removed.
Announcing its new season, the LA opera house said it "was going to be a big one".
"There are six main stage operas, a semi-staged concert, and stellar off-grand productions to enjoy," it added.
Experimental work
Macbeth will be conducted by James Conlon and Lady Macbeth will be played by Ekaterina Semenchuk.
It will be the venue's first production of Macbeth since 1987.
The LA Opera is the fourth largest in America, and as well as staging large headline productions, such as Macbeth, it has built a reputation for championing "off-grand" experimental, contemporary work.
Christopher Koelsch, president and chief executive of the LA Opera, said many of those who attended these shows never went to the main stage.
He added that the venue was trying hard to dispel the common perception that opera "is only for rich, white people".
Its new season will therefore also include The Source, a multimedia opera about former US Army analyst Chelsea Manning.
It will also stage a production called Thumbprint, an opera with Asian influence about a Pakistani woman who is gang-raped to punish her brother.