The Revenant knocks Star Wars off top of UK box office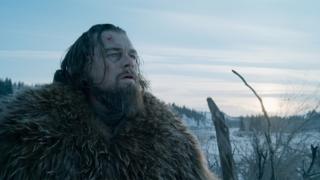 Oscar tipped film The Revenant has knocked Star Wars: The Force Awakens off the top of the UK box office chart.
The film starring Leonardo DiCaprio, about a frontiersman fighting for survival after being attacked by a bear, is up for 12 Oscars.
But The Force Awakens is now the UK's most successful film of all time, having made £114m at the box office since its release.
That was almost £4m more than the previous record-holder, Titanic.
Titanic had been at the top spot in the inflation-adjusted box office chart, with Skyfall in second place.
Rocky spin-off movie Creed is third place in this week's chart in its first week of release behind Star Wars.
The film, which has brought a best supporting actor nomination for Sylvester Stallone, made £2.2m.
While Room, also nominated for best film at the Oscars and best actress for Brie Larson, entered at number seven.
Daddy's Home, starring Will Ferrell and Mark Wahlberg is in fourth place in its fourth week of release.
Quentin Tarantino's The Hateful Eight is at number five in its second week out.
The only other new entry in the top ten UK box office is a live performance of Les Pecheurs De Perles by the Metropolitan Opera in New York.
The screening on 16 January in selected cinemas took £354,738 in ticket sales, putting it in 10th place.
UK box office top five
1. The Revenant - £5,235,851
2. Star Wars: The Force Awakens - £3,137,258
3. Creed - £2,221,758
4. Daddy's Home - £1,500,364
5. The Hateful Eight - £1,107,520