Matthew Perry 'will not' attend Friends reunion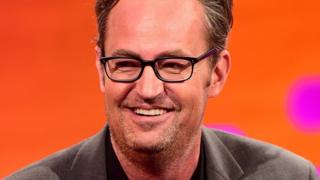 Matthew Perry "will not" attend the Friends reunion show due to rehearsals for his West End play.
According to his spokeswoman, "Matthew may tape something" for the tribute to the show's creator James Burrows.
"In other words, this is not the reunion people have been hoping for," Lisa Kasteler told Us Weekly.
His former co-stars, Jennifer Aniston, Courteney Cox, Lisa Kudrow, David Schwimmer and Matt LeBlanc are all expected to take part in the special.
It is set to be aired on NBC on 21 February.
Friends ended in 2004 after 10 series. As well as Friends, Burrows worked behind the camera on sitcoms including Cheers and Frasier.
Perry has written and will star in the play The End of Longing... which is set to run in London's West End from 2 February until 14 May. It will be directed by Lindsay Posner.
The dark comedy follows four disparate people approaching middle age, who meet in a bar one night.
It marks Perry's first return to the West End since 2003, when he starred in David Mamet's Sexual Perversity in Chicago.