What is Bowie's best song?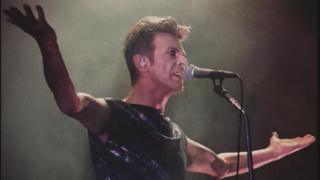 With so many classic songs in David Bowie's repertoire, it's a challenge to decide which is the best. BBC website readers and people on social media have been debating their favourites.
Wild is the Wind
Michael in Shropshire, UK emails: "If I could pick just one David Bowie song it would have to be the very beautiful Wild Is The Wind. Even my Mum loves that song and she's not all that interested in pop music. RIP David Bowie. Your music will live on forever more and a day."
Helen Jones in Liverpool, UK emails: "My favourite Bowie song when I was 18 was Wild Is The Wind. I have great memories of seeing David at Manchester City's ground, Main Road, for The Glass Spider Tour with my best friend and cousin in the 80s. We were totally amazed when he appeared high up on top of the stage opened his golden wings and sang Time. I think we cried."
Nairn in Singapore emails: "Our first song at our wedding was Wild Is The Wind. A song not many know, but one which he mastered and helped make the best day of my life."
Let's Dance
David Malcolm in Manchester, UK emails: "My first ever live show was a David Bowie stage tour. I also started going out with a girl after doing Let's Dance at Butlins."
Kathleen Calder emails: "His song Let's Dance brought me and the love of my life together and set me on a path to get me to where I am now."
Heroes
Annie Driscoll, North Devon, UK emails: "So many of his songs come to mind but a special memory is Heroes. The magical connection between David and Mick Ronson performing this is unforgettable."
Paul Jarvis is Brussels, Belgium emails: "He wrote brilliant, timeless songs and I think I'll pick 'Heroes' as my all-time favourite. I was fortunate to see him twice, firstly on the 'Heroes' tour in Brussels and later on the 'Let's Dance' Tour at Feyenoord Stadium."
Space Oddity
Shelley in Canada emails: "Bowie transcended generations in a way that no other artist has. As a teenager of the 70s 'Space Oddity' was my anthem of the outcast, floating on the fringes. By far my greatest Bowie experience was when he played the 86th Street, a small venue in Vancouver where, as I waited hours before the concert, I heard the band doing a sound check. Suddenly, I heard that unmistakable voice, and there he was, just a few feet away, on the other side of a makeshift fence. He sang pieces of a few songs, and gave those of us who hung around a wave. My 15-year-old daughter, who just returned from Western University, observing her cousin working on the Canadian Mars 2020 Analog Rover Mission, was inspired in her love of space by Bowie. Today, she is headed to school wearing her Heroes t-shirt and a black armband."
Isabelle Prenet in Victoria, British Columbia, Canada emails: "'Space Oddity' is possibly my favourite song of all time. I am a space geek and I watched the first moon landing when I was 10. I love that my Canadian compatriot, astronaut Chris Hadfield sang it in space! It was so moving and beautiful. I was young and foolish and dancing to Bowie in clubs in the 80s and saw his China Girl tour, it was fabulous."
Yvette Richardson Guy, South Carolina, US emails: "So many great songs that changed with me as I grew up. But 'Space Oddity' stays in my head. It was the background sound to my teenage years during summers at the beach here in South Carolina. I plunked in quarter after quarter playing 'Space Oddity' on juke boxes at the pier, in the arcade, in the ice cream parlour, everywhere."
Charmaine Williamson emails: "As a 13-year-old girl living in apartheid South Africa, I fell in love with David Bowie. Space Oddity, Starman, Ziggy Stardust and the Spiders from Mars were worlds away from the dusty, troubled reality of the land. The images and stories of Bowie in pop magazine Jackie, imported from Britain into South Africa, fuelled the attraction even more. I remember paying heavily in pocket money to buy any poster of Bowie from my sister, who was a subscriber to the magazine."
Life on Mars
Chrissey Towen in Ohio, US emails: "There are so many favourites but the one that always stands out is Life on Mars. I could relate to the girl with the mousy hair. I must have played that song 10,000 times."
Jodi Carroll in Willoughby, Ohio, US emails: "It has to be Life on Mars. As a teenager in the 70s, that song epitomised the confusion and questions, the uncertainty of life that I was experiencing. It's winsome chorus spoke to me, a 16 year old living in an apartment when I longed to be somewhere else, to perhaps be someone else.
Moonage Daydream
Bob Perry emails: "My favourite track must be Moonage Daydream or Queen Bitch. In the early 70s my music teacher at Norton Hill School had acquired a number of tickets for a group of us to go to see David Bowie at the Colston Hall in Bristol. This was in his Ziggy persona. Sadly, as publicity for the tour grew and pictures emerged of the outlandish costume, our teacher returned the tickets feeling the concert was not suitable for a group of young teenagers. Ziggy Stardust is currently in my car CD player and I was telling my wife and children only a couple of weeks ago about how unbelievable it is that the songs are over 40 years old, but are still so fresh, vibrant and original."
More of your memories and tributes to David Bowie.
Compiled by Rozina Sini