David Gilmour disc wins record cover prize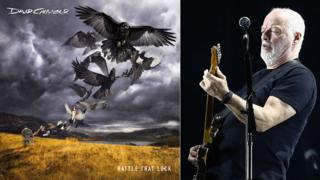 The bird-themed cover of Rattle That Lock, the fourth solo album from Pink Floyd's David Gilmour, has won a prize for the year's best album artwork.
The artwork was selected from 50 entrants in the annual awards.
Alt-rock band Drenge's second album Undertow came second, while Currents, the third studio album from Australian group Tame Impala, came third.
Now in its 10th year, the prize is organised by Art Vinyl, a company that promotes record covers as art.
The winner - art directed by Dave Stansbie from The Creative Corporation - was decided by public vote from nominees that also included Blur's The Magic Whip and Bjork's Vulnicura.
Previous winners of the prize include Klaxons' Surfing the Void - which depicted a cat in a spacesuit - and last year's recipient, Royal Blood's self-titled debut album.
This year's winners will be showcased in exhibitions in Ayrshire, Bologna, Budapest and Munich, as well as at two locations in London.