Celebrity Big Brother: Ofcom 'assessing' complaints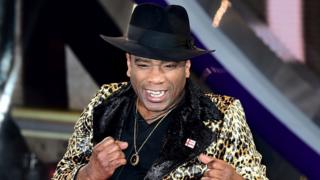 TV watchdog Ofcom has received 165 complaints about comments made by Winston McKenzie on the launch show for Celebrity Big Brother.
In his entry video, the London Mayoral candidate said he would "cope with a homosexual in the house" by "standing against a brick wall all the time".
The former boxer was booed by the live crowd as he entered the house.
Ofcom said it would assess the complaints before deciding whether to investigate.
Channel 5 has declined to comment.
The former UKIP member is now standing as an English Democrats candidate for London Mayor.
In his pre-recorded introduction video, the motivational speaker called himself "the second coming".
His comments about how he would "cope" living with a gay housemate led to loud boos by the crowd. They chanted "off, off, off" at him as he was interviewed by host Emma Willis.
He ignored the booing and praised them as a "fantastic crowd" and said he thought he could win the competition.
Last year's series saw former Coronation Street actor Ken Morley thrown off the show for using racist and sexist language.
And former Baywatch star Jeremy Jackson was also removed after pulling open fellow contestant Chloe Goodman's dressing gown.
He was given a police caution for common assault.