Mad Max and The Martian up for Producers Guild Awards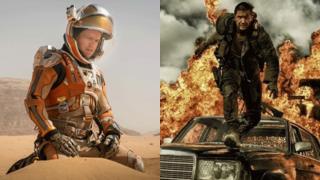 Mad Max: Fury Road, The Martian and Straight Outta Compton have been nominated for best film at the Producers Guild of America Awards.
The Big Short, Brooklyn, Ex Machina, Bridge of Spies, The Revenant, Sicario and Spotlight also made the list.
The awards have a good record of predicting which film will go on to have Oscar success.
Films noticeably left out are Carol, Room, Star Wars: The Force Awakens and Quentin Tarantino's The Hateful Eight.
In the best animation category, Anomalisa, Inside Out, The Good Dinosaur, Minions and The Peanuts Movie received nominations.
The PGA also announced the nominees for best long form television, which saw a nod for the second series of True Detective despite criticism from fans.
Other nominees included American Crime, American Horror Story: Hotel, Fargo and A Very Murray Christmas.
In November it was announced Asif Kapadia's Amy Winehouse film, Amy, had been nominated for the PGA's best documentary award alongside Joshua Oppenheimer's The Look of Silence.
This year British producer David Heyman - best known for the Harry Potter films, Gravity and Paddington - is among those being presented with special honours, alongside Grey's Anatomy and Scandal creator Shonda Rhimes.
The awards have a good record of predicting which film will go on to get Oscar nominations and win the Academy's best picture category.
Last year's winner Birdman went on to win the best picture Oscar.
This year's winners will be announced on 23 January at the Producer's Guild of America ceremony in Los Angeles.