Ex-BBC director general criticises licence fee deal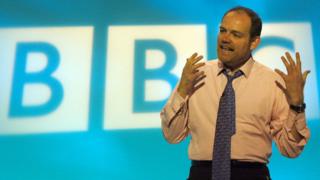 Former BBC director general Mark Thompson has said the corporation should not have to bear the cost of free TV licences for the over-75s.
Mr Thompson, who ran the corporation between 2004-12, said the free TV licences were a form of "welfare".
He told The Guardian: "It's totally inappropriate to use BBC to support social transfer in this country."
The BBC agreed in July to take on the cost of free TV licences as part of its charter renewal negotiations.
Free TV licences cost the government £608m in 2013-14 - equivalent to about a fifth of the BBC's budget.
In return, the government is expected to allow the licence fee to increase in line with inflation after being frozen at £145.50 since 2010. Viewers who only watch on iPlayer could also be required to pay.
'Very anxious'
The BBC's current royal charter expires at the end of 2016 and the corporation and government are currently negotiating over what the BBC should be allowed to do under the next charter.
Mr Thompson said: "I am just very anxious at the end of all the questioning that we come up with the right answers. And for me the right answer is a strong, properly funded BBC of scale and scope."
The Guardian billed it as his first interview about the BBC since leaving for the New York Times in 2012.
The paper reported that Mr Thompson was prepared to resign when Chancellor George Osborne first tried to force the corporation to take on the cost of free TV licences for the over-75s in 2010, leading the government to back down.
"In 2015 the political circumstances are very different and it is much tougher for the BBC," Mr Thompson said.
"In 2010 it was the coalition government and the Liberal Democrats… played a very big part in securing a different and better settlement. That recourse has not been available to the BBC this year."
But he said his remarks were not a criticism of director-general Tony Hall and the current management, telling the newspaper: "You have to be in the room and I am not going to second-guess anything that Tony and the current leaders of the BBC have done."