Former Royal Ballet principal Bryony Brind dies at 55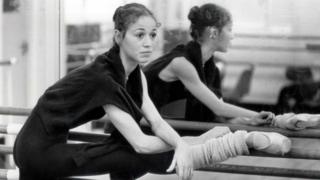 British dancer, Bryony Brind, has died at the age of 55.
She was a principal at The Royal Ballet for 14 years and danced with Rudolf Nureyev.
Brind was outspoken about the need to develop more British ballet talent, claiming the company had been "infiltrated" by foreigners.
Kevin O'Hare, director of The Royal Ballet, said: "We are deeply saddened by the news... She will be fondly remembered."
"Bryony belonged to an extraordinarily talented group of British White Lodge students who joined the Company together," he added.
"She emerged as a distinctive presence on stage where her long-limbed and delicate form combined with a lyrical and fragile beauty that made her dancing unique."
Brind joined The Royal Ballet School in 1971 and graduated into The Royal Ballet in 1978.
'Can't get the quirkiness'
She was selected by Nureyev to dance Nikiya in his production of La Bayadere, alongside him as Solor in 1981.
Brind later said of him: "He was one of the most intelligent people I've ever met. Originally I was terrified of him, but he became a mentor, supporter and friend."
As well as performing key classical roles, Brind was known for her interpretations of contemporary repertoire, a subject which she spoke widely about.
In a 2013 Telegraph article she "lamented how the nation's best dance company has only one British woman and two local men among its 21 leading performers".
"The Royal Ballet was founded in this country and has been going for years and should have a few more English dancers in order to carry on its tradition," she said.
"It is more difficult for foreign dancers to grasp the quintessentially British style. Sometimes a dancer not brought up in this country can't get the quirkiness."
She retired from the company at the end of the 1990/91 season to pursue a freelance career as a dancer and actress.