Emmerdale actress Shirley Stelfox dies aged 74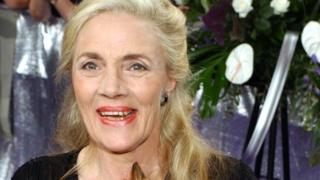 Emmerdale actress Shirley Stelfox has died following a short illness.
The 74-year-old was best known for her role as Edna Birch in the ITV soap, which she played for the last 15 years.
In a statement, her agent said she had been diagnosed with cancer and passed away on Monday.
ITV executive producer, John Whiston paid tribute, saying: "The family here at Emmerdale are deeply saddened by Shirley's passing, it is hard to imagine Emmerdale without her."
He added: "We offer our condolences to Shirley's family and share our feeling of loss with the millions of viewers who will miss Edna enormously."
Stelfox trained at the Royal Academy of Dramatic Art (RADA), and went on to star in numerous well-known TV shows.
She was the first Rose in Keeping Up Appearances and also starred in The Bill, Coronation Street and Crossroads.
Her film credits included a role opposite John Hurt in the movie adaptation of George Orwell's novel 1984, and alongside Julie Walters in Personal Services.
She also had a successful career in the theatre, with her stage work including Not Now, Darling, Toad Of Toad Hall and Cavalcade at the Chichester Festival Theatre.
She was married to actor Don Henderson from 1979 until he died in 1997.
Former Emmerdale star Verity Rushworth, who played Donna Windsor in the soap, led the tributes on Twitter, writing: "Thinking of the entire @emmerdale family and the loved ones of the legendary Shirley Stelfox. Taight me so much when growing up. xxx."
Actress and comedienne Kathy Burke tweeted a photo of Stelfox and Henderson saying: "RIP beautiful Shirley Stelfox seen here with the love of her life Don Henderson."